TAP Insulation: Energy Efficient Pest Control Product
Have you ever wished there was a way to insulate your home and deter pests a the same time? Well, there is! With TAP insulation through Accurate Termite & Pest Solutions, you'll see not only a boost in your home's energy efficiency but also a drastic decrease in the pest pressures in your home, both of which can save you a small fortune in the long run!
How TAP Insulation Works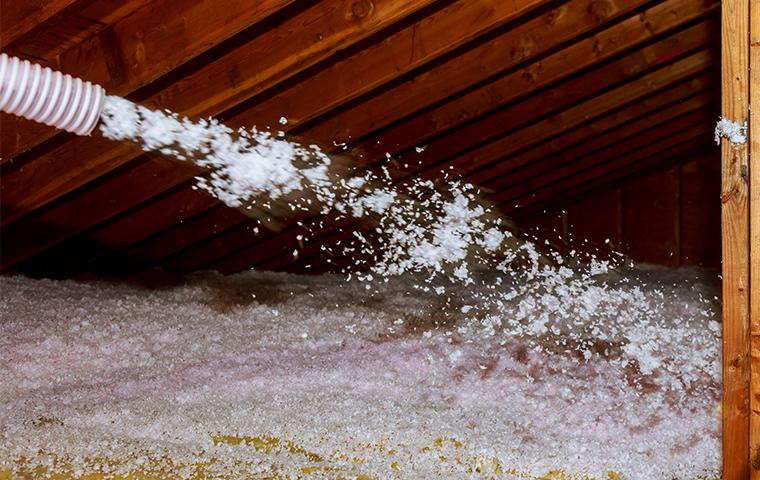 TAP Insulation is a loose-fill, cellulose insulation applied using a blowing machine to perfectly fill every nook and cranny, creating an effective barrier against cold temperatures and invading pests. This method of installation holds many benefits over the use of traditional rolled insulation.
Made of natural fiber, TAP Insulation is mixed with Boric acid to make it fire-retardant and ensure that it is thermally superior, sound-canceling, and fully protective against a variety of pest invaders. In addition, TAP is safe to use around humans and pets while also being deadly to pests like ants, cockroaches, silverfish, millipedes, termites, and many other common household-invading pests found here in California.
TAP Insulation can be used as a cap over the existing insulation in your attic space or on its own. When pests crawl through the insulation, they transfer Boric acid to their bodies and will be eliminated after ingesting it.
In addition to its pest protective properties, TAP Pest Control Insulation is also one of the best performing insulations on the market, outperforming traditional fiberglass insulation by 32%! For more information on the benefits of our pest control insulation services or to schedule a service for your California home or business, reach out to us at Accurate Termite & Pest Solutions for assistance!
Why Choose TAP Insulation
TAP Insulation, which stands for Thermal, Acoustical & Pest Control Insulation, is made of 87% recycled paper, making it a healthy and natural alternative to traditional rolled insulation. And when used in a 1,500 square foot ranch-style home, it can effectively recycle as much paper product as a family would use in over 40 years. Combine that with its ability to deter and eliminate common household-invading pests, and you'll have a hard time finding a better insulation product on the market!
When added to existing insulation or installed on its own, TAP Insulation works to keep comfortable air in the living areas of your home. This reduces the energy required to heat and cool your home, reducing your heating and cooling bills and saving you additional money by decreasing the wear and tear on your HVAC system.
Why Pest Control Is So Important
When pests enter your home, they bring a variety of problems with them. While most pests are simply a nuisance, some can pose a serious threat to your health and the structural integrity of your home. For example, common home and business-invading pests such as rodents and cockroaches can carry dangerous bacteria and diseases that may be transmitted to you and your family members if they are allowed to roam free in your home. In addition, wood-destroying pests like termites and carpenter ants can eat away at your home for months or even years without your knowledge. All across the board, pests are a threat to your well-being and should always be a reason for concern!
What Accurate Can Do for You
When you trust Accurate with your home's insulation and pest control needs, you will not only find savings on your heating and cooling bill; you will also experience freedom from pests. Don't wait to find out how beneficial installing TAP Insulation could be for your home! Instead, give us a call at Accurate Termite & Pest Solutions. We'd be happy to discuss our procedures with you and help you find a service that fits your pest control needs and your budget. Your satisfaction is our guarantee!
Request Your Free Inspection Today
Complete the form below to schedule your no obligation inspection.